It's here! The Spring 2023 REVISED REGATTA SCHEDULE!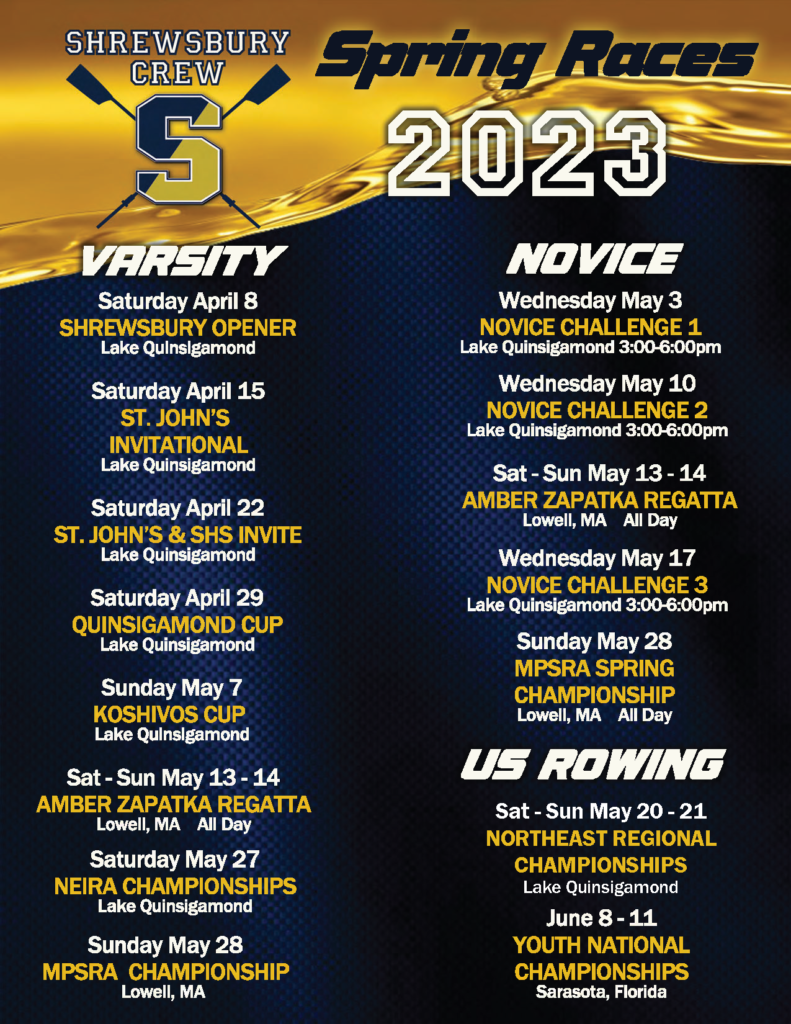 You will see that on the weekend of May 13-14 SHS now has the opportunity to race at the Amber Zapatka Regatta on the Merrimack River in Lowell. They have just announced the return of this regatta and final race schedules are expected in March. This is a High School and Masters event only so it will be a great warmup for the Mass. State Championships on the same course just two weeks later.
Another BIG DATE FOR YOUR DIARY: Saturday April 8
April 8 is not only the day of the Shrewsbury hosted Season Opener Regatta against St. John's and Bedford NH, but we will also be celebrating the boat naming ceremonies for both the Girls and Boys 1V Hudson shells.
And as a fabulous BONUS on the same day, we will also be unveiling the new Shrewsbury Crew 'Wall of Fame' in the Boathouse. This is the Eagle Scout Project of Boy's 1V rower Jimmy H. who has already put countless hours into this massive undertaking.
The 'Wall of Fame' will provide a fitting place to showcase and display photographs and memorabilia from Shrewsbury's rich 86-year history. If you know someone who has crew photos or memorabilia from the past 8 decades, please contact me on this email. If suitable, we will arrange to have them copied and framed for display in the Boathouse.